Verify your Voter Registration Status
Voter Information
Election Day is Tuesday, November 7, 2023
Polls are open from 6am to 7pm

Last day to register: Oct. 16, 2023 ~ Same day voter registration begins Oct. 17, 2023
Deadline to request an absentee ballot: Oct. 27, 2023
Final day to vote early, in-person: Nov. 4, 2023 at 5pm
More Questions?? Call the Norfolk Voter Registrar at (757) 664-4353 or
visit www.norfolk.gov/elections
On November 7, 2023, all 140 members of the Virginia General Assembly (House of Delegates & Senate) are up for re-election. In 2021, with the new census information, Virginia went through our redistricting process. Due to redistricting, all House and Senate district geographical boundary lines have changed and all House and Senate district numbers have changed.
With the new maps, Norfolk has it's own Senate district with boundaries entirely located within the City of Norfolk. Those of us who are currently elected will represent our current districts until January 9, 2024. The November elections will be based on the new districts and winners of that election will be sworn in on January 10, 2024. You can visit "Who's My Legislator" to see the current and new information: https://whosmy.virginiageneralassembly.gov/
District 21
The 21st Senate District encompasses about 93% of the City of Norfolk. Voting Precincts are:
Berkley, Campostella, Chrysler Museum, Ruffner Academy, Ingleside, Poplar Halls, Calvary Revival Church, Fairlawn, Lake Taylor High School, Sherwood Elementary, Sherwood Recreation Ctr, Broad Creek, Union Chapel, Young Park, Maury, Ghent Square, WH Taylor Elementary School, Larchmont School, Lambert's Point, Park Place, Lindenwood, Ballentine, Coleman Place School, Larchmont Library, Virginia Zoo, Willard, Lafayette Winona, Norview, Tanner's Creek, Baron Black Library, Azalea Gardens, Larrymore, Rosemont, Suburban Park, Granby, Second Presbyterian, Titustown, Wesley, Crossroads, Northside, Pretlow Library, Oceanview School, Oceanview Golf Course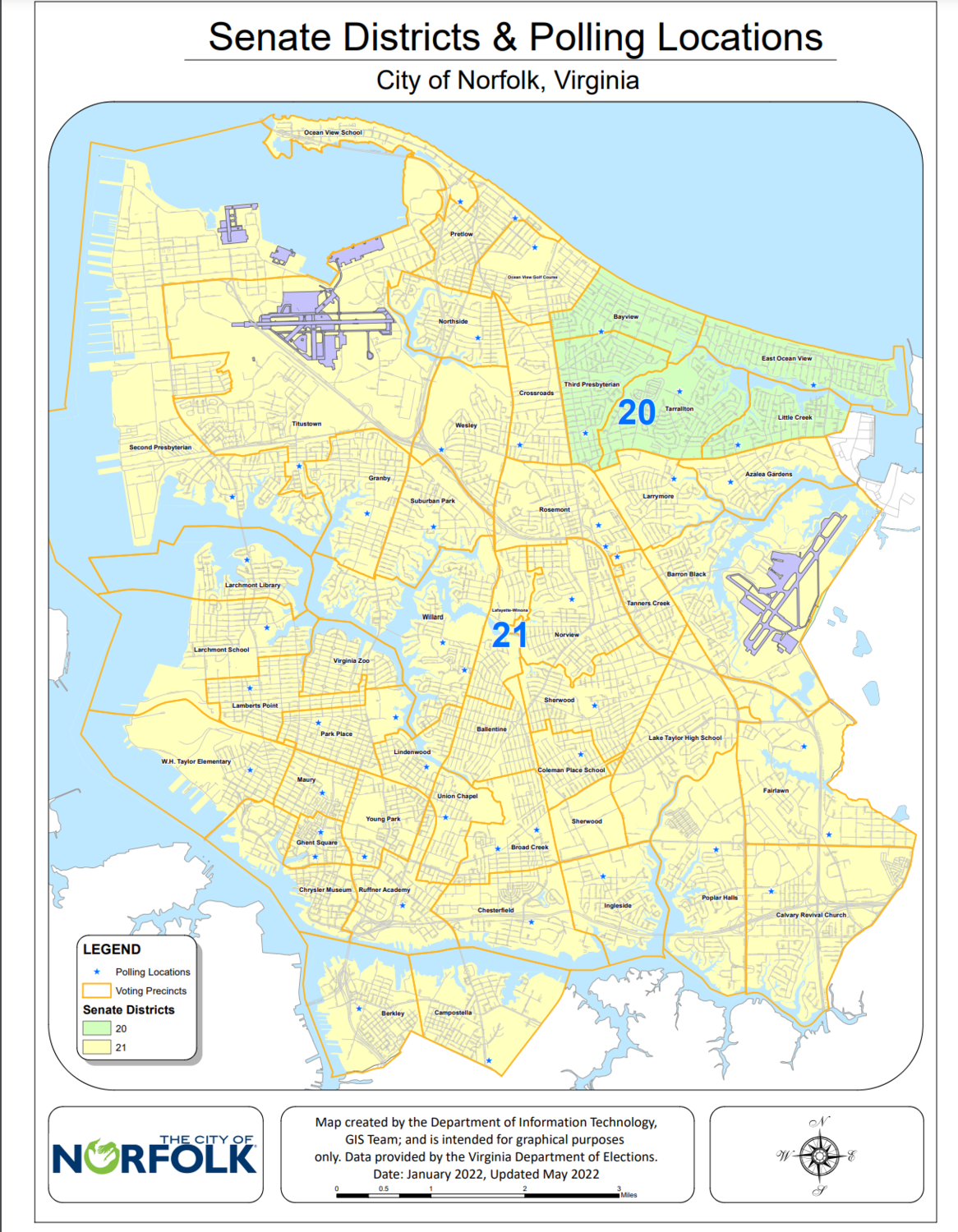 Countdown to Election Day!
November 7, 2023 at 6:00 AM